Mulled Wine and mince pie day  for Gold and Silver Members of Dene Dental's 'Teeth for Life' Club.. 3rd of December 2014
Over 40 members of our plan joined us in warm and cosy surroundings of our practice on a crisp but cold day to enjoy warm (hot) Mulled wine and warm mince pies. Savouries as well as Cheese and biscuits were also laid out for those who wanted to indulge in a hearty meal.
We had crossed out the entire day to entertain the members. As always all hands were on deck as many members came at the same time.. Perhaps the gazebo outside a good idea in the future.
Cream Tea Party for Gold and Silver Members of Dene Dental's 'Teeth for Life' Club
Vik and the team at Dene Dental would like to thank all the members who joined us on the 21st Aug for the Cream Tea afternoon. This was organised to thank all the members for their continued support and commitment to the upkeep of their oral health.
It was an enjoyable afternoon appreciated by all. We missed the members who could not attend but hope to organise many more events for the members to get-together.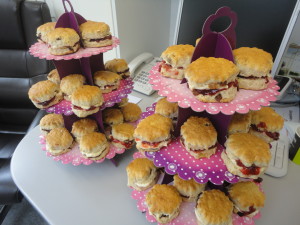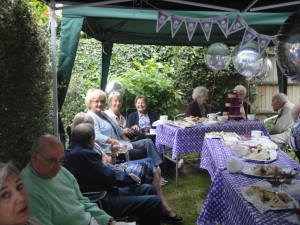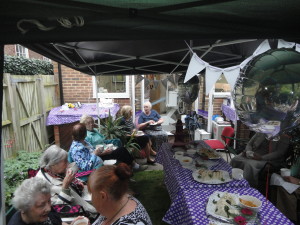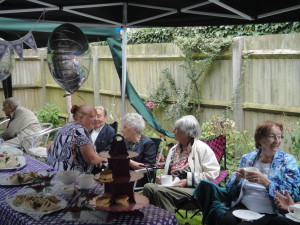 NEW SERVICES
Fast Braces: Short term Orthodontics at affordable prices
We now offer short term orthodontics using the modern advances in techniques that enable us to align your teeth with just one wire making the whole treatment quick (from 3 to maximum 10 months). The new Fast Braces are affordable compared to the conventional braces. Please click here for more information.
Osteopathy
Osteopathy is a holistic system of treatment for a wide range of medical conditions. It is based on the principle that the good health and harmonious interrelation of skeleton, muscles, ligaments and connective tissues are crucial to an individual's well-being. Please click here for more information on Osteopathy services @ Dene Dental Practice.
Successful FREE Mouth Cancer Screening Open Day
Placed 4 e-max crowns and 3 e-max veneers on a lady and within 2 hours changed her smile. Patient's comment , "should have had this done sooner". It is my experience that it can take a few years from suggesting 'life transformational cosmetic dental treatment' to patient going ahead with it…why do patients procrastinate? no idea…cost? fear of treatment? not sure how good it will look?…perhaps lack of confidence in the dentist?
We are all living longer.If you are 65+ you are at the right age to undergo renovation of your smile especially if your teeth are worn, darkened and crooked.which they are likely to be by then.Grow old gracefully in to your nineties. Get a graceful smile.
______________________________________________________________________________________________________________________________________________________________________________
Joining hands with the charity organisation mouthcancer.org, on Saturday, 16th Nov, we held an open day offering residence of Northwood an opportunity to benefit from FREE mouth cancer screening.
This also included, FREE early detection using our VELscope scanner.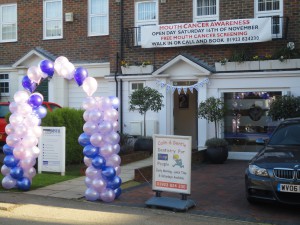 Mouth Cancer Screening Open Day